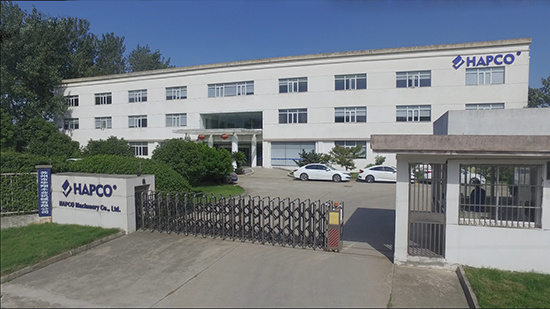 HAPCO Machinery Co., Ltd was founded in 1996. It is a high-tech enterprise of private enterprises. HAPCO mainly engaged in mechanical processing of wood-based panel production, development, sales and technical services. The main products are the supporting equipment of various forms of hot press, cold press, plywood machine and Short-cycle Press Line. HAPCO brings together a large number of middle and senior technical personnel to conduct research, design and manufacture, to make high-quality products at home and abroad for the users. The development of low pressure short-cycle press line is close to international advanced level, especially, develop wide (7 "x 10") short-cycle press line and wide (4 'x 16') short-cycle press line (auxiliary time for 11 seconds), is the first in the country. Including plywood machine, hot press, and other products have been in the domestic leading technology, at the same time put on the market at home and abroad, won the user communities high praise and good reputation, has won the broad market.
HAPCO currently has more than 20 senior management personnel and over 60 technical personnel. We have the advanced equipment of milling machine, lathe, grinding machine, nc machine etc., to build "first-class enterprise, high quality products" as the core. From the machine, single machine and the components of the design, manufacture to the supply of complete sets of equipment, equipment installation, technology guidance, technical consultation, personnel training, help customers' distribution of products and after-sales service, etc. HAPCO had cooperated with Siempelkamp, According to the motto "technological know-how meets state-of-the –art production", both partners use their individual strengths in the production of short-cycle press lines. One of Panel Plus in Thailand is convinced of this combination of German expertise and Chinese production strength. The result is a performance-strong short-cycle press at a competitive price.
"Change wins the market, innovation wins the future". After years of development, innovation has always been the core direction of HAPCO's development. HAPCO has a number of invention patents and utility model patents, which belong to the leading technology in woodworking machinery industry. It is also the governing unit of the forestry machinery association of the state forestry bureau, and has published the company's technical research and discussion on several occasions in the journal of the woodworking industry.
HAPCO adhered to the management philosophy of "high end technology, innovation, professional quality, customer first ", and established long-term and stable friendly cooperative relations with many large enterprises at home and abroad. Independent research and development of the AUTO- production line for short-cycle press line, Flooring Lamination Line, Plywood Lamination Line, Veneer Lamination Line etc., exquisite workmanship, high degree of automation and the sales in the domestic high-end market, and exported to Europe, America, southeast Asia and Oceania, and so on.
HAPCO attaches importance to scientific management and advocates the corporate culture of "integrity, solidarity, dedication and struggle". Constantly blaze new trails, technology as the core, regard quality as life, serve customers as god, sincerely to provide you with the highest cost performance products, high-quality engineering design and meticulous after-sales service.
We sincerely welcome the foreign and domestic customers to visit and give instructions for cooperation and development